The Government of British Columbia is acknowledging the importance of reducing greenhouse gas emissions.
The provincial government has announced that it is set to invest $10.6 million in a multi-faceted approach to reduce greenhouse gas emissions from road transportation in B.C.
The decision to renew the Clean Energy Vehicle (CEV) program in British Columbia will undoubtedly spur consumer demand for advanced vehicle technologies that reduce greenhouse gas and smog-causing exhaust emissions, said David Adams, President of the Global Automakers of Canada.
It is important to us that the government has looked more holistically at a suite of low emission and zero emission technologies—which is the same approach the auto industry is taking to meet the stringent federal greenhouse gas emissions regulations in place now through 2025 that are aligned on a North American basis, added Adams.
The Clean Energy Vehicle program resides with the Ministry of Energy and Mines and funds are allocated for both consumer incentives and the fueling infrastructure, with additional funds being allocated for consumer education and awareness.
The reality is manufacturers are producing these advanced technology vehicles but for there to be any environmental benefit consumers have to be aware of them, purchase them, and have confidence that the fuelling and charging infrastructure is  available to support their purchase. Were happy that todays announcement assists with all of these issues, said Adams.
The GAC member companies are leaders in the development of advanced technology vehicles from advanced internal combustion and clean diesel engine technologies, to hybrid, plug-in hybrid, battery electric and fuel cell propulsion technologies. More than half of the vehicles eligible for the CEV program are produced by GAC member companies.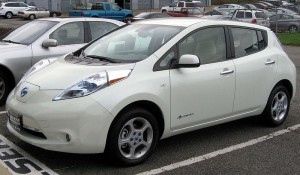 As the manufacturer of the best-selling all-electric vehicle, Nissan is excited about the new initiative announced by the Government of British Columbia. The BC Clean Energy Vehicle Program will provide incentives for British Columbia residents who purchase an electric vehicle.
As of April 1, 2015 when the new program goes into effect, the all-electric Nissan LEAF is eligible for the full $5,000 incentive in British Columbia.
At Nissan, we are thrilled by the Province of British Columbias decision to enrich its commitment to reducing greenhouse gas emissions through the BC Clean Energy Vehicle Program, says Christian Meunier, president of Nissan Canada Inc. British Columbia was an early supporter of electric mobility, and the first province in Canada to commit to working with us to promote the adoption of electric vehicles almost five years ago. We are pleased that zero-emission vehicles like the Nissan LEAF are now even more accessible to consumers in BC looking to make a change in the way they drive.