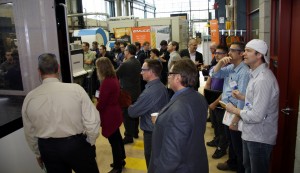 On November 15, 2011, Emuge Corp. (precision cutting tools) together with OPEN MIND (software) and two co-hosts Quebec Aerospace Association (AQA) and National Research Council Canada (NRC-CNRC) held a seminar featuring simplified programming and 5-axis simultaneous toolpath optimization for machining complex aerospace components. The event took place at AQA, the event sponsor, in Montréal, Quebec.
Approximately 40 attendees learned about new technologies for advanced 5-axis machining including viewing live cutting demonstrations on a DMG DMU 100P machining center. Attendees witnessed firsthand how integrating the industry's leading machining centers, end mills and software when applied with the latest techniques, can produce great gains in high productivity machining, while reducing costs and improving product quality.
Emuge featured High Productivity End Mills that machine (from roughing to finishing) complex, precision parts. Emuge also discussed other end mills ideally suited for aerospace machining including TiNox-Cut end mills for cutting titanium, nickel-based alloys and tough stainless steels, and Alu-Jet-Cut Solid Carbide End Mills that are uniquely designed for large-volume machining of aluminum. OPEN MIND demonstrated the latest hyperMILL software including a new hyperMAXX high-performance roughing module.
Emuge Corp. is a subsidiary of the 1,000+ employee German company Emuge-Werk Richard Glimpel GmbH Co. KG. The company manufactures an extensive line of taps, end mills, thread mills, holders and attachments, over 100,000 items sold through distributors worldwide.
www.emuge.com.
AQA (www.aqa.ca), the Quebec Aerospace Association, provides information and technology to small and medium business in the aerospace sector.