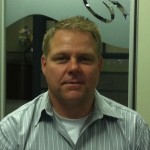 Thermadyne is pleased to announce that Brent Matthews has joined the Thermadyne Sales team in Canada as Automation Business Manager, effective November 4, 2011.
Brent will be dedicated to the Canadian Market and will focus on Thermadynes Automation product lines under the brands of Thermal Dynamics, Thermal Arc, Tweco and Arcair. His primary focus will be the growth of the Thermal Dynamics Plasma Automation segment wher he will take the lead in our Make The SwitchTM initiative of High Precision Cutting, Integrated Controls, Robotics and Beveling, Air Plasma and Upgrades Retrofits.
With over 25 years of experience in Inside and Outside Sales and Business Development in the automation industry, Brent brings a wealth of knowledge to work alongside the Thermadyne Industrial Sales Team to offer Automation product and solutions for you and your customers.
Should you have any inquiries regarding Thermadyne Automation, Brent can be reached as follows:
Brent Matthews
Canadian Automation Business Manager
Thermadyne Welding Products Canada
2070 Wyecroft Road
Oakville, ON
L6L5V6
(C)416-528-4992
brent_matthews@thermadyne.com