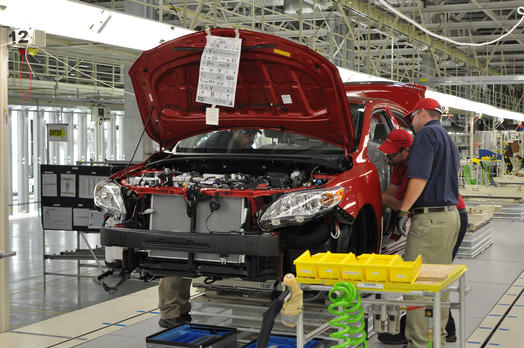 DETROIT  Toyota has announced management changes that consolidate power with North American CEO Jim Lentz and promote some U.S. executives to senior posts in Japan.
Lentz, who previously led sales and marketing, will head Toyotas North American manufacturing operations when the changes take place April 1. North American engineering and research operations also will report to him.
Toyota also promoted North American communications chief Julie Hamp to chief communications officer for the entire company. Shes Toyotas first female managing officer. And it named Chris Reynolds a managing officer and chief legal officer for the whole company. Hes the first African-American to hold the positions. Reynolds was general counsel for U.S. operations.
The moves give a greater voice to company executives from North America, Toyotas largest market. In the first nine months of its fiscal year that ended Dec. 31, the company sold just over 2.1 million vehicles, up 7 per cent from last year. Japan was the second-biggest region at just over 1.5 million.
They also give Lentz control over manufacturing, engineering and styling as the company moves to shed its image of boring but reliable cars. Toyota is shifting design and engineering work for cars made in the U.S. to its technical centre south of Ann Arbor, Michigan.
Lentz, who has been with Toyota since 1982, is a senior managing officer and has a seat on Toyotas board of directors. He has pushed to move the companys North American headquarters from Torrance, California, to Plano, Texas, in an effort to enable faster decision making. The move is in progress but wont be completed for another two years.
Company President Akio Toyoda said in a statement that the changes and a diverse team of executives will help Toyota serve customers better around the world, and give Lentz a strong support base as he continues to build upon the strong momentum he has achieved with dealers and customers in this key market.