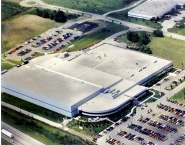 Makino has designed its Mason, OH, facility as the company's Global Titanium Research and Development Center, wher a specialized group of engineers will focus on titanium milling technologies.
The facility will include state-of-the-art machine tools, specialized titanium machining and tooling experts, CMM equipment, and all the necessary tools and talent to further titanium machining technologies. Makino is releasing several new technologies in titanium machining in 2010.
"Titanium machining is very process driven, meaning the machine tool, cutting tools, machining process, and coolants must all be developed and integrated specific to titanium's material properties," says Tom Clark, vice president of Makino. "Our mission at Makino's Global Titanium R&D Center is to provide manufacturers with the best in titanium application expertise by combining Makino's titanium machining capabilities with the worlds leading process technologies. This is an ideal opportunity to work with vendors, suppliers, and partners to develop improved metal removal rates and longer tool life in titanium milling.
"The Mason, Ohio facility was chosen based on the increasing importance of titanium in the aerospace industry which is centralized here in North America. Our past experience in aluminum aerospace applications and grinding of hard metals will serve as an advantage to the continued development of titanium aerospace processing techniques.
Makinos Global Titanium R&D Center will be managed by a selec group of engineers with knowledge and experience around titanium in both academic and industrial backgrounds. The group will be working with tooling and consumable vendors from around the world for a wide knowledge base in all types of titanium applications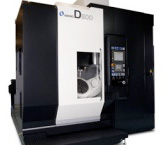 One of the machines Makino will have in its new centre, the D500 five axis vertical machining centre
Titanium Machinery
Makinos Global Titanium R&D Center features a variety of machining platforms, including horizontal machining centres, vertical machining centres, five axis machining centres, and wire and Ram EDMs. Currently installed equipment includes a Makino a81M, a horizontal machining centre, D500, a five axis vertical machining centre, EDGE3, a Ram EDM with Titanium Booster technology, and the T4 five axis horizontal machining centre, part of Makinos latest T-series machines, built for titanium aerospace parts and are the first to include ADVANTiGE technologies.
The first machines in Makinos T-series include the T4 and T2 five axis horizontal machining centres. The larger T4 provides X, Y, and Z axis travels of 4,200 mm, 2,000 mm, and 1,000 mm respectively, and can hold workpieces up to 5,000 kg. For smaller aerospace components, the T2 provides X, Y, and Z axis travels of 2,000 mm, 2,000 mm, and 1,800 mm respectively, and can hold workpieces up to 5,000 kg.
In Canada, Makinos machines are sold through Single Source Technologies Canada, Mississauga, ON.
www.makino.com
www.singlesourcetech.com