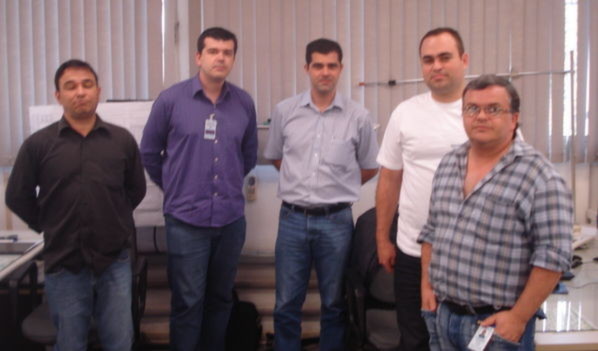 Schuler's team of programmers.(Source: DP Technology)
Brazil/France - Writing computer numerical control programs the old-fashioned way is a complex and time-consuming task. Now a firm of Brazilian toolmakers has switched to a standard programming language which uses macros that guide users' choices.
Prensas Schuler based in São Paulo, Brazil, supplies mechanical and hydraulic press systems for the automotive industry and their suppliers as well as the household appliance industry. These presses require a wide variety of machined components, including beds, slides, gears, moving bolsters, uprights and many others in a range of sizes and styles. Writing CNC programs for these parts using traditional methods used to be time-consuming and expensive. Now the company has reduced the time required for CNC programming by taking advantage of the open architecture of Esprit computer-aided-manufacturing software from DP Technology to write Visual Basic for Applications (VBA) macros. The macros prompt the programmer to enter dimensions and other basic information for each type of part and then automatically generate the programs. "Esprit provides several important advantages, including support and programming assistance provided locally by frame Tecnologia as well as its use of the Visual Basic for Applications programming language," says Fabio Avila, Chief of Machining Shop, at Prensas Schuler.